Description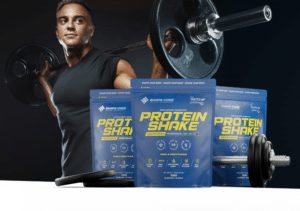 SHAPE CODE® Protein Shake – get your dream figure!
SHAPE CODE ® Protein Shake is a support in building impressive muscle mass and beautifully sculpted body. SHAPE CODE ® Protein Shake is a versatile protein shake, ideal for athletes as well as for those who simply do not provide their body with the required daily amount of protein. It answers the needs of people practicing sports and those who want to maintain an adequate supply of protein in their daily diet. SHAPE CODE ® Protein Shake will always provide the right amount of protein in your diet and support the process of lean muscle mass building. The shake has been enriched with Palatinose ™ and WATTS'UP ®* – ingredients clinically proven to promote power and performance during physical activity. All this to support your efforts to shape the figure of your dreams even more effectively!
SHAPE CODE® Protein Shake supports:
1. Individuals striving for a sculpted, athletic physique by:
-supporting the process of building lean muscle mass.
2. People on diet aiming to achieve a slim figure by:
-supporting weight control,
-supporting fat burning process,
-supporting metabolic processes,
-supporting weight loss (helping to provide a feeling of satiety),
-supporting the maintenance of normal blood cholesterol levels.
3. People who do sports by:
-supporting post-workout recovery,
-supporting recovery after muscle and bone injuries,
-maintaining optimal efficiency of exercises,
-fostering the reduction of muscle protein catabolism.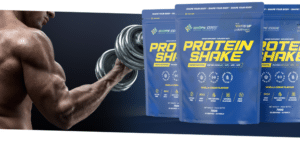 Get to know the unique features of SHAPE CODE® Protein Shake products!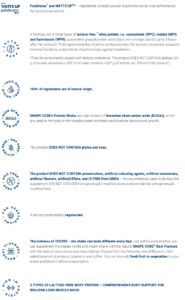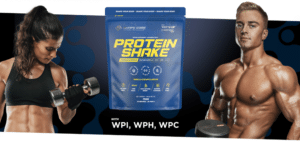 3 types of whey protein to further support the body in building lean muscle mass
A formula of 3 lactose-free protein types: WPI, WPH, and WPC is a universal form of whey high-protein nutrient combining the features of quickly assimilated proteins with those which assimilate more slowly. The blend of whey hydrolysate, isolate and concentrate provides our muscles with varying absorption and assimilation times. In terms of digestion, each of these proteins has a different rate of energy release and delivery to our metabolism. Thanks to this varied rate of absorption of different types of protein, SHAPE CODE® Protein Shake ensures high muscle saturation. As a result, the body gains valuable building materials which support the development of muscle mass and support the effects of long-term physical activity.
What is the difference between WPC, WPH, and WPI proteins?
WPC (whey protein concentrate) contains up to 80% by weight from protein. The digestion of WPC protein begins APPROXIMATELY ONE HOUR after ingestion and CONTINUES FOR APPROXIMATELY TWO MORE HOURS. WPC provides large amounts of essential amino acids necessary for muscle building.
WPI (whey protein isolate) is a whey protein isolate with a protein content of up to 95%. WPI digestion begins APPROXIMATELY WITHIN AN HOUR after ingestion, but absorption time is about half that of WPC. WPI has a high BV (biological value) and is therefore efficiently digested.
WPH (whey protein hydrolysate) is the best absorbed whey protein and its content in the pure product is 100%. Its effective absorption starts virtually IMMEDIATELY AFTER CONSUMPTION and lasts FOR JUST ONE HOUR. During this time, muscles receive a dose of nutrients that can significantly improve their recovery process after training. It is a type of protein especially recommended for people building muscle mass and reducing fat to a very low level.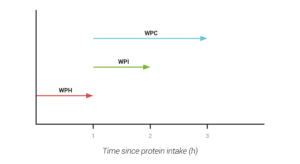 Figure 1: Beneficial synergistic action of the mixture of 3 types of whey protein – prolonged protein supply up to 3 h after workout: Directly after the intake, whey protein hydrolysate (WPH) is absorbed. Then about one hour after the intake, whey protein isolate (WPI) digestion starts and lasts another hour. Further protein supply to the body is provided by whey protein concentrate (WPC) – its digestion takes up to about 2 hours after consumption.
After intake of the protein mixture contained in SHAPE CODE® Protein Shake, the body can remain in the anabolic state even for several hours (anabolic process is a metabolic process which most significantly results in growth and formation of new cells). The continuous flow of amino acids obtained with the blend also means faster regeneration, prevention of muscle tissue breakdown, and support for immune functions. Thanks to the synergistic action of 3 types of proteins, SHAPE CODE® Protein Shake works equally well for professionals and those who do exercise for amateur/recreational purposes.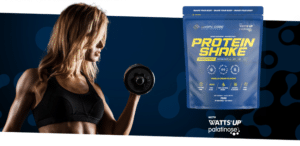 WATTS'UP®* and Palatinose™ – support for power and performance during physical activity
What is WATTS'UP®*?
WATTS'UP®* is a proprietary formula of all-natural sweet orange fruit extract Citrus sinensis standardised for hesperidin in its most active conformation. The formula is clinically proven to show positive effects on exercise performance in moderately trained individuals.
The daily dose of WATTS'UP®* formula used in clinical trials (400 mg) is contained in 2 portions (70 g) of SHAPE CODE® Protein Shake.
The proprietary formula was clinically tested according to the gold standard of randomised, double-blind, placebo-controlled trials.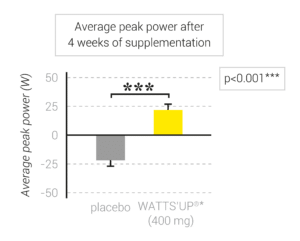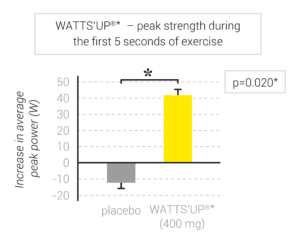 The Wingate anaerobic test *** showed increased mean anaerobic power in the group taking 400 mg WATTS'UP ®*, which was significantly different (***p<0.001) compared to the placebo group (Figure 2).
Furthermore, peak strength during the first 5 seconds of exercise was shown to significantly increase after 4 weeks of supplementation with 400 mg WATTS'UP®* compared to placebo (p*=0.020), corresponding to a 7.5% increase (Figure 3).
***Wingate's anaerobic test is widely used to measure anaerobic power output. It was conducted using Wattbike Pro (Wattbike Ltd, Nottingham, UK). The Wattbike resistance system was equipped with an air resistance flywheel with a shift lever adjustable from 1 (low) to 10 (high). The tests were performed at the High-Performance Center at TopSport Limburg in Sittard.
What is PALATINOSE™?
Palatinose™is a naturally-derived carbohydrate, often referred to as "smart," which, thanks to its exceptionally low glycaemic index, provides energy in a more balanced way compared to other sweeteners. This property means that the body is energetically supported during exercise in a slower, steady, and prolonged manner. This notwithstanding, it provides the same amount of carbohydrate energy as sucrose. (Figure 4).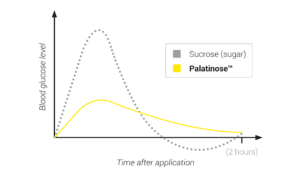 Consuming foods/drinks that contain isomaltulose instead of sugar leads to a smaller increase in blood glucose levels after consumption as compared to foods/drinks that contain sugar.
What makes SHAPE CODE® Protein Shake different?
1. As many as 2 clinically proven ingredients: Palatinose™and WATTS'UP®* which promote power and performance during physical activity.
2. A unique formula containing 3 types of the highest quality lactose-free proteins (WPC, WPI, and WPH) which ensures prolonged, gradual release, up to 3 hours after the workout.
3. The product DOES NOT CONTAIN lactose and is suitable for people with lactose intolerance (35 g of powder dissolved in 200 ml of water contains <0.01 g of lactose per 100 ml of the product).
4. 100% of ingredients are of natural origin.
5. SHAPE CODE® Protein Shake is a dietary supplement, which can be used to build lean muscle mass or as a daily diet supplement with protein.
6. Rich in branched-chain amino acids (BCAAs) to promote muscle growth.
*WATTS'UP® is a trademark of BioActor B.V.
1 van Iersel, L. E., Stevens, Y. R., Conchillo, J. M., & Troost, F. J. (2021). The effect of citrus flavonoid extract supplementation on anaerobic capacity in moderately trained athletes: a randomised controlled trial. Journal of the International Society of Sports Nutrition, 18(1), 1-10.
Take the challenge with SHAPE CODE® Protein Shake and start shaping your dream body!
Watch an educational video:
Watch a promo video:
Ingredients: Lactose-free** whey protein*blend: WPC – whey protein concentrate (from milk), WPI – whey protein isolate (from milk), WPH – whey protein hydrolysate (from milk), isomaltulose (Palatinose™)***– a sweetener of natural origin, natural cream flavour, natural vanilla flavour, salt, WATTS'UP®**** – a proprietary sweet orange fruit (Citrus sinensis) formula standardised for hesperidin, stevia (steviol glycosides) – a natural sweetener.
*Protein helps maintain muscle mass and supports muscle growth. It also helps maintain healthy bones.
**Lactose content< 0,01 g/>< 0.01 g/100 ml of finished product prepared with water or plant drink.
*** Isomaltulose (Palatinose™) is a source of glucose and fructose.
**** WATTS'UP® is a trademark of BioActor B.V.
Usage
Add two flat scoops of the powder (35 g in total) to 200 ml ofcool water or your favourite plant drink, and shake vigorously to prevent the contents from settling to the bottom. Consume the shake with vanilla and cream flavour 1 to 2 times a day. The use immediately after workout is recommended. Do not exceed the recommended daily intake. The product cannot be used as a substitute for a varied diet. Use this cocktail as part of a balanced and varied diet in combination with an active lifestyle.
SHAPE CODE ® Protein Shake can be combined with the following products:
DuoLife Medical Formula ProStik® and DuoLife Collagen.