Benefits of Joining The DuoLife Club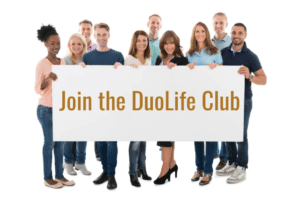 When you place an order of €150 or more you automatically qualify for membership in the DuoLife Club. 
Club Member Pricing
DuoLife Club Members enjoy 20% – 35% discounts off of regular retail prices  at our private DuoLife Membership site..
 Loyalty Bonuses
If you order at least €125 worth of product each month, you qualify for free products. The choice of free products available varies throughout the year. They are typically products with retail value of at least €25.
Our typical club member who takes full advantage of the loyalty program receives about €300 per year in free products.
Referral Bonuses
DuoLife has grown to be a leading supplement brands in Europe mostly through word of mouth.
We do almost no advertising.
We expect the high quality of our products will ensure our club members share our brand with their friends and family.
When someone joins the DuoLife Club through your recommendation, you receive a referral bonus equal to difference between their first order price and your club member price on that 1st order.
Typical referral bonuses are between €25 – €50.
And…
As long as you remain an active club member you're eligible to receive 2% – 5% referral bonus on all of your friend's future orders!
Depending on how many people you refer and the size of their purchases, that can add up to hundreds or even thousands of dollars per year.*
You can use that money for your own purchases or, at your request, we'll send the money straight to your bank account.
Club Member Hot Line
DuoLife Club Members have a hotline support (email or phone) for fast VIP resolution of any support issues.
DuoLife Health Club
We have great additional Club Member benefits in the works including, free health webinars and a health line you can call to speak to medical professionals for customized advice about DuoLife products and  your specific health needs.
Official website Link
The benefits of becoming a club member Link
The benefits of becoming a club member – Business Link
DuoLife Compensation plan EU  Link
DuoLife Compensation plan USA Link