Description
DuoLife Fiber Powder
is a dietary supplement in the form of sachets, containing a complex of soluble dietary fiber from as many as 4 sources (in the form of branded ingredients) as well as a proprietary, branded nucleotide formula with the yeast
Saccharomyces cerevisiae
. The formula is composed of the highest-quality natural raw materials and is a very rich source of dietary fiber. The health-promoting effects of the ingredients contained in the dietary supplement have been documented by clinical studies.
The package contains 20 sachets.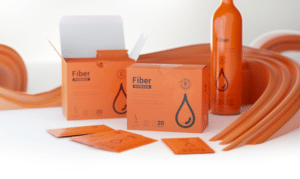 Why should you consume dietary fiber?
---
Dietary fiber is not digested in the digestive tract and is not absorbed into the bloodstream. However, it has a very important nutritional function. It has a very positive effect on many metabolic and physiological processes in the human body and is classified as a so-called PREBIOTIC.
According to the World Health Organization (WHO), the recommended daily intake of dietary fiber for adults should be 20-40 g1. The Food and Nutrition Institute provides standards for Poland at a level of 30-35 g per day for adults. As another daily intake indicator, the intake of 14 g of fiber per 1000 kcal a day is recommended. Meanwhile, the average daily fiber consumption in Poland in 2016 was only 15.4 g per person2. Scientific observations show that societies consuming higher amounts of dietary fiber (up to 30-40 g a day) have lower rates of digestive, circulatory and immune problems, and related health issues.
DuoLife Fiber Powder dietary supplement is intended for people who:
---
want to actively support the proper functioning of their alimentary tract and digestive processes on a daily basis;
have constipation and slow gastrointestinal passage;
have gastrointestinal problems resulting from disorders of the natural intestinal microflora;
care about the optimal health of the large intestine;
follow the so-called LOW FODMAP diet;
want to maintain a healthy weight (the product supports weight loss, helps to reduce appetite and promotes a prolonged feeling of fullness);
are overweight and want to reduce their body fat;
want to keep healthy blood glucose and cholesterol levels;
want to support optimal vascular health and regular blood pressure;
want to support the functioning of their immune system;
want to cleanse the body of accumulated toxins;
want to support normal gallbladder functions;
suffer from heartburn;
want to support optimal absorption of minerals from the gut;
want to support optimal antioxidant processes.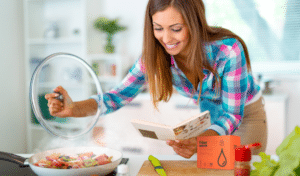 What makes DuoLife Fiber Powder unique?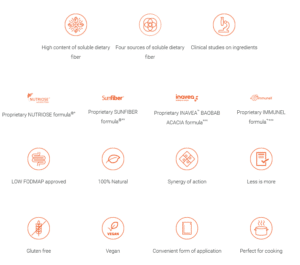 High content of soluble dietary fiber
There are two groups of dietary fiber: soluble and insoluble, with slightly different physiological functions3. Soluble fiber consists mainly of pectins, gums, plant mucilages, some hemicelluloses, beta-glucans and other water-soluble compounds.
Soluble fiber:
absorbs water in the intestines and increases the weight and size of stool;
slows down the passage of food;
provides nutrients for healthy gut microbiota and stimulates the development of intestinal microflora (prebiotic effect);
increases the feeling of satiety, helps to maintain a healthy body weight, and promotes weight loss;
helps to maintain normal blood cholesterol and triglyceride levels and supports vascular function and optimal blood pressure; Properties promoting optimal cardiovascular health are mainly demonstrated by the soluble fiber fraction;
promotes delayed glucose absorption in the small intestine and reduced insulin secretion, helping to normalise blood sugar levels;
dilutes faecal matter, helping to prevent constipation;
promotes the absorption of minerals from the intestine;
has a beneficial effect on the body's immune system.
Insoluble fiber includes mainly cellulose and lignins. Its primary function is to support the peristalsis of the digestive tract and increase the weight and size of stool.
Four sources of soluble dietary fiber
DuoLife Fiber is a 100% natural formula based on high levels of soluble, branded dietary fiber and additional ingredients, such as ASTRAGIN® – a proprietary formula of plant extracts of false ginseng (Panax notoginseng) and Mongolian milkvetch (Astragalus membranaceus) as well as BOSWELLIN® – a proprietary formula of frankincense (Boswellia serrata) extract.
Clinical studies on ingredients
The ingredients used in the product have been subjected to numerous, documented clinical studies.
Proprietary FIBREGUM formula™***
FIBREGUM™*** is a proprietary soluble acacia fiber formula derived from acacia trees grown in Africa.
Proprietary SUNFIBER formula®**
SUNFIBER® is an organic, partially hydrolysed gum from Indian guar beans based on galactomannans. However, it is not identical to the commonly used guar gum. Unlike conventional guar gum, it has a lower molecular weight (20-50 kDa versus 300-8000 kDa for non-hydrolysed gum) and thus a much lower viscosity (2000 times lower), which enables the preparation of an easy-to-eat formula, which is safe even when consumed large portions. In addition, unlike guar gum, it is obtained by mild enzymatic hydrolysis at low temperature (37°C) exclusively from the endosperm of seeds. SUNFIBER® has clinically and pre-clinically proven beneficial PREBIOTIC health-promoting effects and its complete fermentation process is slow and gentle on the intestines.
Proprietary BOSWELLIN formula®*
Boswellic acids from a proprietary formula of Indian frankincense (Boswellia serrata) extract – BOSWELLIN®* – help to fight inflammation in the intestines and to alleviate symptoms associated with inflammatory bowel disease4-5.
Proprietary ASTRAGIN formula®
ASTRAGIN® is a patented formula with biological action proven by 16 in-vitro and 8 in-vivo studies6-8. The results of these studies show that the synergistic formula:
promotes the absorption of peptides, amino acids, fatty acids, vitamins, and phytonutrients from the digestive tract, which is why DuoLife Fiber should best be taken with a meal, other DuoLife dietary supplements, and Shape Code®shakes;
supports the recovery of damaged intestinal epithelium;
helps to fight inflammation in the intestines;
supports the function and growth of gut microbiota;
supports the immune function of the intestinal epithelium.
The LOW FODMAP diet is low in short-chain, poorly absorbed, and rapidly fermentable carbohydrates with high osmotic pressure (such as lactose, fructose, and polyols). As a result, it helps to maintain optimal condition of the digestive tract and reduces bloating and intestinal discomfort, especially in people with irritable bowel syndrome or lactose intolerance.
The fiber-based formulas contained in the product, particularly SUNFIBER®** , are suitable for people on the LOW FODMAP diet, as they undergo slow fermentation process and are gentle on the intestines. The products of fiber fermentation are slowly released over time, so using SUNFIBER® helps to minimize the flatulence and bloating associated with excessively fast intestinal fermentation (Figure 1).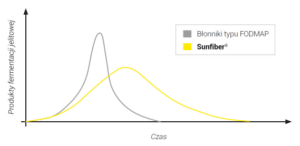 The fiber contained in SUNFIBER® and FIBREGUM™ promotes optimal functioning of the digestive tract, supports intestinal peristalsis, regulates bowel movement, and helps to prevent flatulence, bloating and chronic constipation9. It supports the growth of good gut microboota – Bifidobacterium and Lactobacillus – and the production of short-chain fatty acids in the large intestine (the so-called postbiotics)10.
The formula does not contain: gluten, artificial flavours and fragrances, artificial fillers and is GMO-free.
Suitable for vegans and vegetarians.
Convenient form of application
Liquid ready for immediate consumption.
The product can be used, for example, to thicken soups or sauces and baked goods.