Description
Problem with unwanted kilograms? Self-sacrifice? Yo-yo effect? How many times have your failures ended up in excess weight and other unwanted consequences? Fortunately, it's all behind you! SHAPE CODE® Slim Shake is the right offer for all who strive for maintaining beautiful, slim figure and who search for support for a reasonable diet that would facilitate body weight reduction and maintenance of proper general condition of the organism.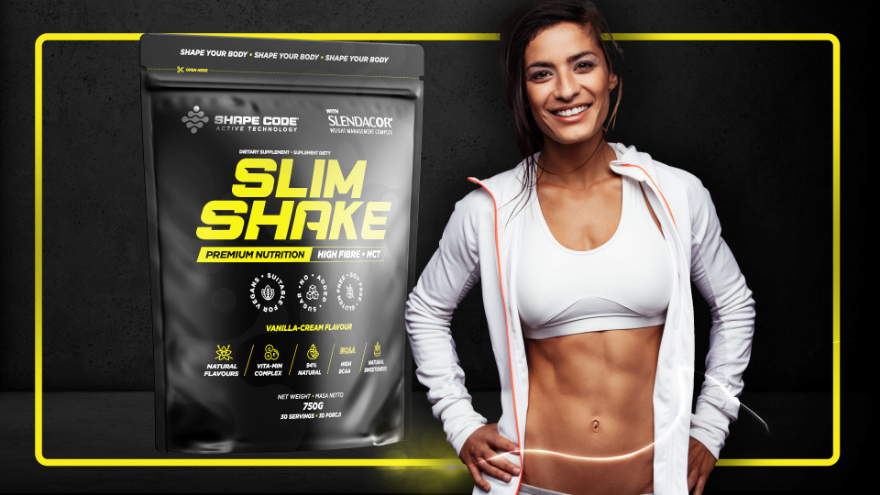 SHAPE CODE® Slim Shake supports:

body weight control,

adipose tissue reduction,

proper functioning of the digestive tract and gut microbiota,

lipid and carbohydrate metabolism in the body,

metabolic processes,

process of slimming, also by helping to reduce the appetite,

digestive processes,
maintaining the proper level of blood glucose and cholesterol,

water balance in the body,

body cleansing processes.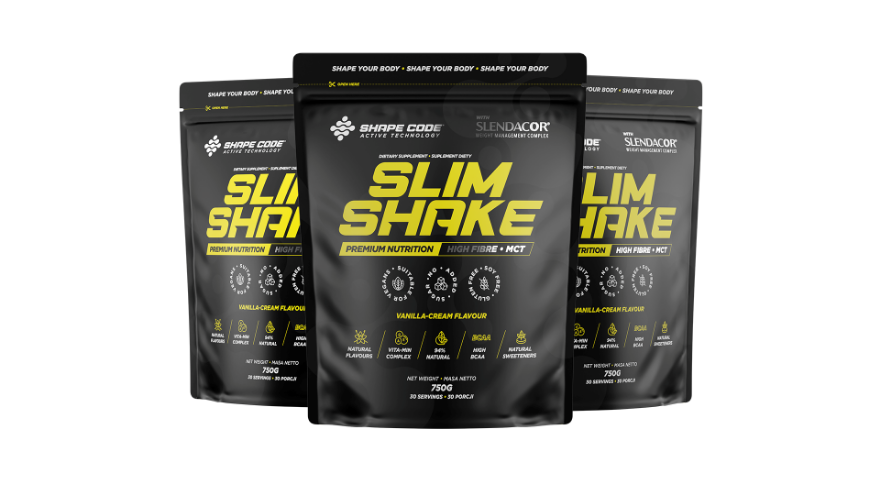 Read about the unique qualities of SHAPE CODE® products!

Dual-purpose formula: supplementation or partial replacement of everyday diet and supporting loss of excessive body weight.

Clinically tested ingredients – SLENDACOR® with clinically proven effects that facilitate body weight loss.

94% of the ingredients are NATURAL, the cocktail was enriched only with a vitamin and mineral mixture, ALL THE OTHER ingredients (including sweetening agents and flavours) are NATURAL.

It contains precious medium-chain fatty acids (MCT) from coconut oil and two different complete proteins from chickpea and yeast, with high content of BCAA amino acids (valine, isoleucine and leucine).
It contains as many as three kinds of dietary fibre.

It is suitable for consumption by vegans and vegetarians (no ingredients of animal origin); VITAMIN D3 contained in the vitamin premix is also of plant origin and VEGAN.

The product DOES NOT CONTAIN gluten, lactose, soya, nor added sugar.

The product DOES NOT CONTAIN preservatives, artificial colouring agents, artificial sweeteners, artificial fillers and is free from GMO – the raw materials used to develop the supplement DO NOT COME from genetically modified plants.

A wealth of flavours – each day, your cocktail can have a different taste! Right before consumption, you can add a chosen natural flavour to your classic vanilla and cream cocktail and experiment! You can choose one of the following natural flavours: mint, salted caramel, strawberry, blueberry and coffee. You can also add fresh fruit or vegetables to your cocktail and blend it before consumption.
SHAPE CODE® Slim Shake can be prepared on the basis of milk or plant drinks.
SLENDACOR® – the secret of slimming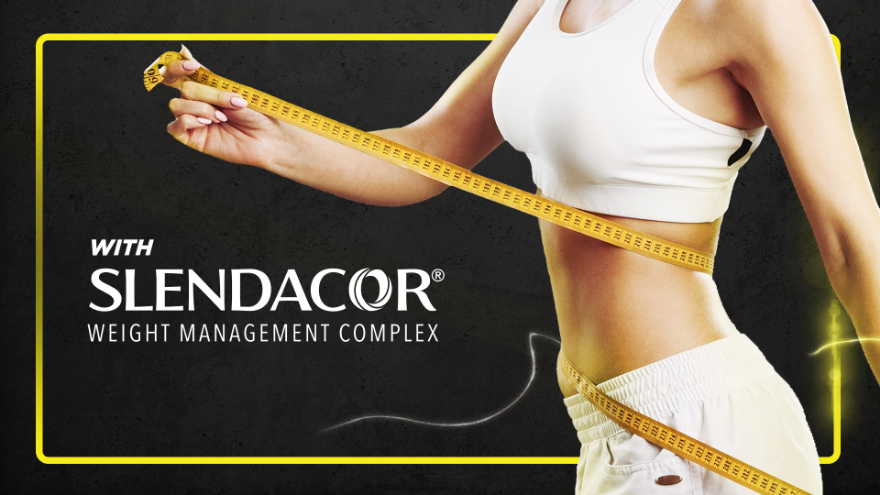 SLENDACOR® Weight Management Complex
is a synergistic formula based on three plant extracts: from curcuma (Curcuma longa) rhizomes, curry (Murraya coenigii) leaves, and drumstick tree (Moringa oleifera) leaves. Those plants have been known for hundreds of years for their health-promoting properties.
SLENDACOR® has clinically proven effects that support loss of body weight. This proprietary formula was clinically tested in compliance with the gold standard of randomised, double-blinded, placebo-controlled trials.
What is SLENDACOR®?
It is a plant formula characterised by clinically proven efficiency of action, if combined with proper diet and motor activity. Portion of 900 mg of SLENDACOR® formula per day was used in the clinical trials.
The daily dose of SLENDACOR® formula used in the clinical trials (900 mg) is contained in 2 portions (50 g) of SHAPE CODE® Slim Shake.
As a patented and clinically tested ingredient, SELNDACOR® is perfect for both males and females over the age of 18 and it supports the process of body weight loss.

Figure 1. Results of clinical trial, in which 140 healthy overweight volunteers participated. The used daily dose of SLENDACOR®: 900 mg, additional study conditions: 1800 kcal/day diet, combined with physical activity of 30 minutes per day (5 days a week). Based on 1.
Clinical trials with the use of SLENDACOR® Weight Management Complex formula were conducted both on healthy overweight individuals [1]and obese individuals [2]. The study conducted on 50 obese individuals [2] (Clinical Trial Registration no. ISRCTN37381706) demonstrated that after only 8 weeks in the studied individuals using SLENDACOR® a significant loss of body weight and reduction of BMI (body mass index) occurred in comparison with the group that was administered placebo. The SLENDACOR® formula (900 mg/day) was used in combination with 2000 kcal/day diet and 30 minutes of daily physical activity 5 days a week. It was demonstrated that the formula also facilitates the maintenance of correct blood glucose level; moreover, it is safe and well tolerated. In 2018, another trial was conducted [1] on a group of 140 healthy overweight individuals and lasted 16 weeks. The participants were administered 900 mg of the formula per day (in two daily doses, 450 mg each); moreover, they followed a reduced-calorie diet (1800 kcal/day), combined with daily 30-minute physical activity (5 days a week). The study showed that the formula effectively supports body weight control. Statistically significant (*p<0.0001) reduction of body weight, waist and hip measurement was noted, starting from the 14th day (Figure 1). After 16 weeks (112 days), the average body weight loss amounted to 5.36 kg, BMI decreased, on average, by 2.05, and waist measurement, on average, by 5.08 cm. The best effects, however, were achieved after 16 weeks of Slendacor formula use. It was demonstrated that body weight loss was primarily related to adipose tissue reduction.
How does SLENDACOR® work combined with a proper
diet and physical activity?

It supports body weight loss.

It has a positive impact on BMI.

It facilitates reduction of
adipose tissue around the waist and hips.
Maintaining proper weight is not an easy task and one that requires many sacrifices. Thanks to the plant SLENDACOR® formula, you can successfully support that difficult process. The first effects become visible already after 14 days of use, whereas regular 16-week use is a proven way to lose excessive kilograms and attain the body build of your dreams.
Lose 5 kg in 3.5 months with no sacrifice. It really is possible with at least 30-minute of physical activity per day and supplementing or partially substituting your everyday diet with SHAPE CODE® Slim Shake.
---
The effects of using the dietary supplement, thanks to the content of carefully selected, essential nutritional ingredients of the highest quality and a plant ingredient of clinically proven effectiveness, can be visible already after 16 weeks! You only have to trust SHAPE CODE® Slim Shake and remember 4 simple steps:

STEP
proper diet. The diet whose part is SHAPE CODE® Slim Shake, and which does not exceed 1800-2000 calories per day, is an indispensable element of success.

STEP
at least moderate physical activity. We encourage you to take up physical activity of at least 30 minutes a day;

STEP
proper hydration: between 2 and 2.5 litres of water a day. Water supports the process of washing toxins out of the body, supports renal function and provides the organism with minerals, and at the same time facilitates slimming by accelerating metabolism and inhibiting the feeling of hunger.

STEP
patience and persistence. When using SHAPE CODE® Slim Shake, evaluate the effects of your diet after 16 weeks. Remember that gradual weight loss is more beneficial to the body and can yield more permanent results!
What distinguishes SHAPE CODE® Slim Shake?
1. SHAPE CODE® Slim Shake is a dietary supplement that can substitute a meal.
2. It is a unique product containing the patented SLENDACOR® ingredient, with clinically documented effects that facilitate weight loss.
3. It contains precious medium-chain fatty acids (MCT) from coconut oil. It is incomparable with products based on other oils, including sunflower seed oil.
4. It contains two different complete proteins from chickpea and yeast, with high content of BCAA amino acids (valine, isoleucine and leucine).
Take up the challenge and start taking care of yourself with SHAPE CODE® Slim Shake today. Ready, steady, go!
Watch an educational video:
Watch a promo video: