Description
Safe intimate hygiene with DuoLife Beauty Care Aloes Intimate Wash Foam
---
Maintaining proper intimate hygiene reduces the risk of infections and irritations. Maintaining healthy (acidic, 3.6-4.5) pH of the intimate area and vagina with the use of cosmetics designed especially for this purpose helps prevent various infections. Every preparation of this kind has to show a 4-step functionality:
cleansing,

refreshing,

maintaining acidic pH,

protecting our natural microbiome.
DuoLife Beauty Care Aloes Intimate Wash Foam is a highly effective cleansing and caring solution for intimate parts from the umbrella brand DuoLife Beauty Care Aloes based on highly concentrated natural ingredients. The line of aloe dermo cosmetics makes use of beneficial properties of aloe, with the richness of active substances working in synergy with aloe or complementing its action, extending the care properties of the cosmetics.
The protective power of aloe stem cells, which have much stronger effect than commonly used aloe extract, along with betaines combined with three prebiotic complexes strengthening the skin barrier and making it less prone for all kinds of irritations, allowed us to create DuoLife Beauty Care Aloes Intimate Wash Foam – an intimate wash foam that cleanses, hydrates, and soothes all irritation and redness. It also cares for healthy pH of the skin and the intimate areas.
Remember!
Do not use traditional, basic soap to cleanse sensitive body parts. Choose only preparations dedicated to intimate hygiene, which:
have appropriate pH, thanks to which they don't disrupt the natural vaginal microbiome,
remove excess discharge, neutralise unpleasant odours, hydrate mucous membranes and refresh.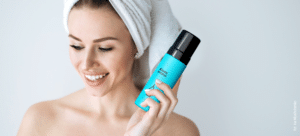 Explore all beneficial effects with which DuoLife Beauty Care Aloes Intima Wash Foam supports daily intimate hygiene: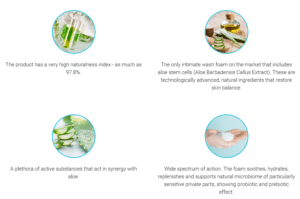 Daily comfort and freshness.
---
The following were used in the product:
stem cells – technologically advanced natural ingredients restoring skin balance,
Aurafirm S

– a blend of prebiotics and probiotics that provides proper microbiological skin balance,
betaine – an ingredient with remarkable moisturizing effect,
honey extract providing our skin protection against bacteria, viruses and fungi,
lactic acid – maintains healthy skin pH of the private parts,

Sabosol RF

– provides gentle replenishing of the skin from the first use,

Biolin/P

– a natural prebiotic based on inulin extracted from chicory root proven to restore the balance of the skin microflora.
Do you know what distinguishes DuoLife Beauty Care Aloes Intimate Wash Foam?
---
DuoLife Beauty Care Aloes Intimate Wash Foam is a remarkably gentle foam with unique, yet innovative composition that provides a broad spectrum of effects for one of the most sensitive parts of our body.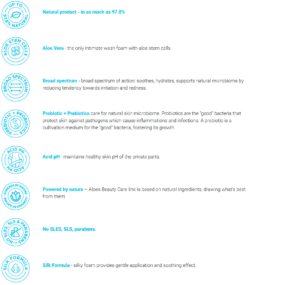 Learn more about the active ingredients of the product
---
Aloe stem cells:
---
have way more powerful effect than aloe extract;
have soothing effect, protecting skin against the harmful influence of irritants;
restore skin balance;
stimulate epidermis cell regeneration and improve skin's protective barrier;
Biolin/P:
---
natural prebiotic based on inulin extracted from chicory root;
proven to restore balanced skin microflora;
provides skin barrier protection and supports microflora regeneration.
Aurafirm S:
---
restores skin balance and helps maintain proper skin microbiome level;
influences the growth of the "good" bacterial flora;
strengthens skin's microbiological barrier, making it less prone to infections and inflammation.
Betaine:
---
provides intense skin hydration;
gives the skin a feeling of silkiness and softness;
soothes irritation;
soothes minor scrapes and redness.
D-panthenol:
---
can penetrate into the deep layers of the skin;
supports the moisturizing and soothing effect;
Honey extract:
---
inhibits bacterial growth process;
has nourishing, moisturizing and regenerating effect;
relieves symptoms of pruritus.
Lactic acid:
---
provides proper (acidic) pH of the skin of the private parts.
Sabosol RF:
---
gently replenishes the skin, preventing its drying and scaling;
supports lipid layer restoration.
Watch an educational video
---
Watch an educational video
---
Watch a promotional video
---
Ingredients: Composition: Aqua/Water, Disodium Cocoyl Glutamate, Glycerin, Caprylyl/Capryl Glucoside, Propanediol, Coco-Glucoside, Aloe Barbadensis Callus Extract, Lactobacillus Ferment, Lactic Acid, Avena Sativa Kernel Extract, Panthenol, Mel Extract, Squalane, Betaine, Inulin, Pantolactone, Lactitol, Xylitol, Alpha-Glucan Oligosaccharide, Citric Acid, Sodium Surfactin, Sodium Phytate, Parfum/Fragrance, Sodium Benzoate, Potassium Sorbate
Usage
Apply a small amount of foam on your hand, wash the intimate area and rinse with water. Product intended for external use.
Do not use in case of hypersensitivity to any of the ingredients.