Description
Discover pure beauty with DuoLife Beauty Care Aloes Face Cleansing Gel and benefit from the blessings of the DuoLife Aloes umbrella brand.
---
DuoLife Beauty Care Aloes Face Cleansing Gel
provides highly effective cleansing care. The product is marketed under the
DuoLife Beaty care Aloes
umbrella brand, which offers products based on highly concentrated, natural ingredients. Our line of aloe face care products, in addition to the incredible properties of aloe, has been enriched with many active substances that have a synergistic or complementary effect to aloe vera, boosting the beneficial effects of the products on our skin.
The protective power of aloe vera combined with the brightening properties of peach , raspberry and apple extracts allowed us to create DuoLife Beauty Care Aloes Face Cleansing Gel, which thoroughly removes all impurities and excess sebum without irritating the skin or upsetting its hydro-lipid balance. Cleansing care with DuoLife Beauty Care Aloes Face Cleansing Gel leaves the skin comfortably soothed and refreshed. The skin is clean, radiant and bright.
Remember!
Gentle anti-aging therapy should preferably be started when you are
still young
. Proper care is aimed at slowing down the ageing processes and providing skin with a radiant, healthy look for a long time.
The future of your skin with DuoLife Beauty Care Aloes Face Cleansing Gel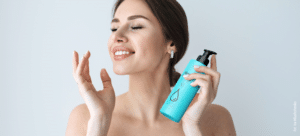 ---
Skin cleansing routine is a key step in everyday facial care, as it removes all impurities and prepares the skin for the next steps. DuoLife Beauty Care Aloes Face Cleansing Gel can be used morning and evening, or more often if needed. A perfectly balanced formula provides refreshment, helps fight free radicals and restores the skin's hydro-lipid balance. As a result, the skin becomes velvety smooth and regains its natural glow. The mild formula without irritating and drying cleansing ingredients, such as SLES and SLS, effectively removes any impurities from the face.
Discover all the benefits that DuoLife Beauty Care Aloes Face Cleansing Gel supports your skin with: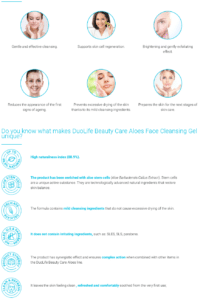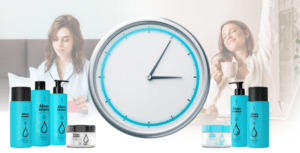 The secret to perfect cleansing and care… step by step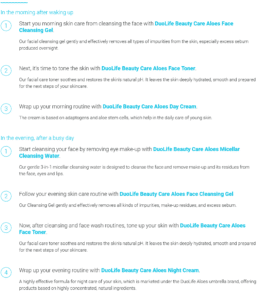 The synergy of DuoLife Beauty Care Aloe products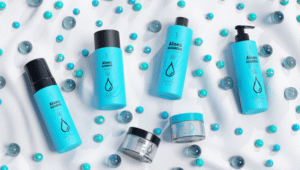 Learn more about the active ingredients of the product:
Aloe stem cells:
several times more powerful effects than aloe extract;
have a soothing effect, protecting the skin from the harmful effects of irritating agents;
restore skin balance;
stimulate epidermis cell regeneration and improve skin protective barrier;
improve skin elasticity and firmness,
Betaine:
binds water molecules to retain moisture in the skin;
makes the skin silky and soft;
protects the skin.
Bamboo extract:
maintains an appropriate moisture level in the skin;
stimulates cell metabolism;
protects against the effects of ageing and harmful external factors.
Apple cider vinegar + honey extract:
maintains the skin's natural pH;
maintains a healthy bacterial flora, protecting the skin against free radicals;
gently exfoliates dead skin cells;
has a soothing effect;
leaves the skin supple and smooth.
Complex of three plant extracts – peach leaf, raspberry and apple:
peach leaf extract is rich in vitamin C, it brightens and nourishes the skin;
raspberry fruit extract contains vitamin C, which protects against free radicals and has a gentle exfoliating and brightening effect;
apple extract is rich in B vitamins, vitamin C, AHA acids and flavonoids
the complex has a regenerative effect on skin cells;
it gently exfoliates dead skin cells, leaving the skin radiant, luminous and glowing.
Watch an educational video
---
Watch a promotional video
---