Description
Can we keep our facial skin looking beautiful, young, healthy and radiant despite the passing years and naturally progressive ageing processes?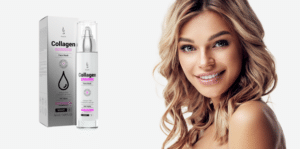 These are the latest generation of products, developed to effectively combat wrinkles and signs of
skin ageing.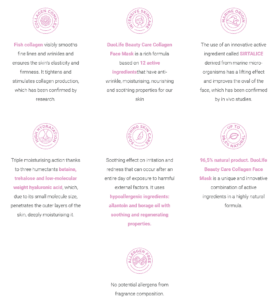 Did you know that DuoLife Beauty Care Collagen Face Mask is…
1. A unique regenerative overnight face mask with hydrating, firming and anti-wrinkle properties.
2. Thanks to SIRTALICE ingredient found in the mask, the wrinkles are reduced by 13% after just 30 minutes.1.
3. The product contains POLYLIFT®, an ingredient of natural origin. In application studies, as many as 76% of women confirm the immediate anti-wrinkle effect, especially within the "crow's feet" area2.
4. The mask is part of the "beauty sleep" trend. It means that appropriate selection of cosmetics for evening skincare may be a guarantee of achieving a beautiful, radiant and healthy-looking skin.
5. Naturalness index of 96.5%.
6. A mask to be used twice a week or more often, depending on the needs of the skin. After cleansing and using a serum instead of a night cream, apply a thin layer of the mask to the face, patting off excess with fingertips. Leave the mask overnight.
1 In vivo studies of the SIRTALICE active substance.
2 In vino studies of the POLYLIFT® active substance.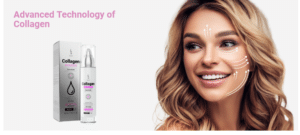 Beauty Sleep trend in harmony with your skin's natural circadian rhythm
---
Does sleep beautify? Does proper evening care and a good night's sleep make a difference to the appearance of our skin? Can we use the skincare products we apply during the day in the evening and achieve the desired effect of beautiful, rested skin when we wake up? Each of us has surely asked ourselves these questions more than once.
In recent years, a trend called "beauty sleep" has emerged in facial skin care, according to which the appropriate choice of evening care products, in accordance with the natural rhythm of our skin, is essential to achieve beautiful, radiant and healthy skin.
The processes occurring in our skin at night ensure its regeneration, reducing wrinkles or dark circles under the eyes. They contribute to increased blood pressure and body temperature, whereas dilated pores allow maximum absorption of the best parts of the cosmetics with twice the power!
This is why proper skin care before bedtime is a sure way to keep it young and healthy looking. Cosmetics for evening care should support the skin in its natural processes – stimulate the synthesis of collagen and elastin, supplement deficiencies of vitamins, micro- and macroelements, rebuild the protective barrier of the epidermis and intensively moisturise and nourish.
Your skin's evening rhythm – perfect skincare, step by step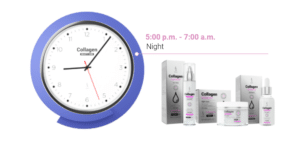 REMEMBER!
During the night, the skin focuses mainly on REGENERATION
1
Start your evening care with make-up removal, meaning a thorough cleansing of the face with a micellar lotion, face gel, and toner. After this procedure, the skin is ready for the next steps of skin care.
2
Next, apply 3 to 5 drops of DuoLife Beauty Care Collagen Face Serum to the face, neck, and décolleté.
The face serum will ensure appropriate skin elasticity, firmness and tautness. During the day, it will stimulate collagen and elastin synthesis in our skin. Additionally, it cares for proper hydration, nourishment and regeneration.
3 A
Follow with DuoLife Beauty Care Collagen Night Cream, especially rich in active ingredients.
The rich formula intensively and deeply moisturises, revitalises, and improves the condition and tone of the skin. It helps fight the issue with visible wrinkles while nourishing the skin with innovative active ingredients.
3B
Then, twice a week or more often depending on your skin's needs, use the serum and follow with DuoLife Beauty Care Collagen Face Mask. instead of your night cream.
It is a unique overnight face mask with regenerative, hydrating, firming and anti-wrinkle properties. The rich formula is based on 12 active ingredients that have moisturising, lifting, and nourishing properties. The specially formulated mask firms the skin, smooths existing wrinkles, and helps prevent the formation of new ones.
Discover the unique active ingredients used in DuoLife Beauty Care Collagen Face Mask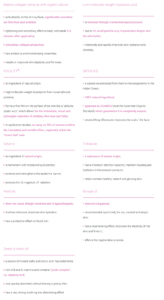 Watch an educational video
---
Watch a promotional video
---